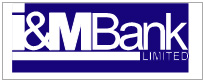 I&M Bank contracts Technology Associates Kenya to implement high-availability, online, automated, DR solution for their consolidated banking data centre server infrastructure!
I & M Bank, one of Kenya's leading banks decided to transform itself into a one-stop, end-to-end financial service organization. In our initial engagement with the bank, a core strategy they envisaged in implementing a world class document management system was to centralize all systems, get all business processes under one workflow framework and put all unstructured information of the customer under one common service. Technology Associates implemented an Enterprise-scale Document Management system from Newgen and digitized the bank's key document-intensive business processes covering - trade processes, bill discounting, customer acquisition & loan processing among others.
The system today enables the bank ensure an enterprise-wide, secure sharing of documents and reports, reduced response time and the ability to distribute customer statements in a highly flexible manner – web, email, fax or even through cell phones.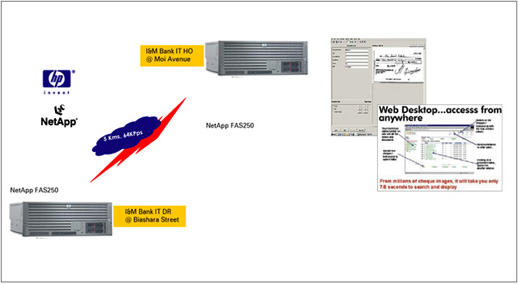 In another critical engagement, in what was the country's first, successful, online, data-replication DR and server consolidation infrastructure projects, I&M bank engaged a grueling evaluation of various solutions from HP, SUN, Veritas as well as Oracle replication tools from a cross section of East Africa's leading vendors. Technology Associates won the award to deploy HP's largest then in Kenya, 4 way Itanium2 processor based, HPUX 11i RISC Unix Server to run their Flexcube Core banking, Electra EFT switch, Electra card management solution on Oracle 10g. The data-replication DR component was effectively addressed through NetApp's fibre channel storage-line with approximately 1.5 terrabyte capacity, across the bank's Primary and DR locations.
Online data replication is performed using NetApp's world leading Snapshot and Snapmirror technology. The NetApp FAS250 system is based on an innovative hardware design that shrinks the traditional "filer head" to a form factor that fits within a single storage shelf. Network Appliance™ storage solutions are based on Data ONTAP™, the micro kernel that ships with every NetApp storage system. Data ONTAP™ is a highly optimized and scalable operating system that enables serving mixed SAN and NAS workloads, delivers high availability, ensures business continuance, and provides data permanence, thereby reducing storage management complexity in I&M Bank's enterprise and lowering their TCO.
A significant value proposition of the NetApp SAN is its "Unified Storage" characteristic that combines Fibre Channel SAN, IP SAN using iSCSI protocol and NAS on a single architecture. This reduces investments on Fibre channel HBA on the large inventory of Wintel Servers, while also presenting better manageability as compared to only Fibre Channel SAN. IP SAN (iSCSI protocol) offers widely accepted Gigabit Ethernet based connectivity with easy to manage storage architecture. To handle the online, instantaneous data replication of their standby servers over a Disaster Recovery site, 5kms away over a 64KBps leased line, I&M Bank will use the SnapMirror solution which will allow replicating data over their WAN communication lines.