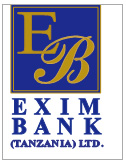 Exim Bank acquires leading edge with Technology Associates Tanzania.
Exim Bank is a privately owned, full-fledged commercial bank, and has established itself as the fastest growing bank since it commenced operations in August 1997. Its major business focus is corporate banking. In their endeavor to offer value added services to their corporate customers and drive an ambitious retail growth in the changing landscape of Tanzania, EXIM Bank revived their investment in technology as a business enabler. Technology Associates Tanzania built the banks data centre infrastructure to run their Flexcube core banking system and deployed an ATM network with Wincor Nixdorf's world leading self-service products off the Opus Electra switch.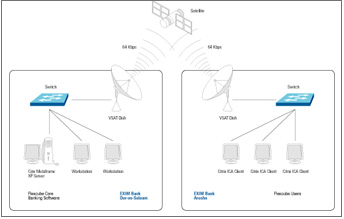 Through an aggressive retail program launched under the "Express Cash" brand, EXIM Bank became the first bank in Tanzania to offer "Self service Cash Deposit" functionality through a newly deployed full-function ATM network. The Wincor-Nixdorf Procash 2150xe web-enabled ATM's, were installed in the first phase at EXIM Bank Dar-es- Salaam, Arusha & Mwanza branches. The second phase of deployment will cover other branches such as Morogoro, Moshi, Mtwara, as well as off-premise retail locations such as airport, petrol stations, hotel lobbies, health & academic institutions and shopping malls. EXIM Bank is also a Principal MasterCard Member, and through this program they will soon be launching International MasterCard products, which will enable their customers access to not just EXIM Bank's countrywide private ATM & POS Network but over a million outlets Internationally.
Exim became the first Wincor Nixdorf customer in Tanzania and their network associates itself with a dozen other financial institutions and 250 other Wincor Nixdorf ATM installations in East & Central Africa.
The bank has deployed the Flexcube, Core Banking application, on high-end Intel servers and its major branches are all connected through VSAT links. The head-office has a high-bandwidth LAN Infrastructure and high-end commercial desktop workstations. The software platform is heterogeneous, comprising of UNIX & Windows NT based product.
The core banking application software is deployed at the head-office in Dar-es-Salaam and the respective branch offices share this application via VSAT links.
EXIM Bank faced the challenges of delivering the same set of business applications to users of diverse computing platforms, across the LAN / WAN; Managing access (security), version control (maintenance), system configuration (moves, adds, changes, deletes), and support (help desk), particularly for distant users and maintaining a simple and cost-effective Disaster Recovery option should the VSAT link collapse.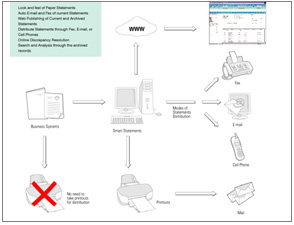 However the 64KBps bandwidth on the VSAT infrastructure was insufficient for running the bandwidth hungry core banking software (CBS) application, across the corporate network. As a Citrix Silver Network Solution partner, Technology Associates recommended, delivered and configured the Citrix Metaframe, a server-based computing model. This minimizes dramatically the cost of ownership of the application in terms of on going management costs.
The CBS is now managed from a single point - the server; the network bandwidth is better utilized and the application can be accessed from any type of client device, via any connection.
In a move to publish electronic customer statements to their growing corporate customer base, Technology Associates Tanzania in another engagement, deployed a world leading Smartstatements solution at the bank. SmartStatements archives the customer statements automatically and creates a highly optimized and compressed database of statements. It compresses statements to one-tenth of their original size, ensuring that you can provide more current and historic statements online for instant access by the customer. SmartStatements brings the actual look and feel of the statement to the customer's desktop. The company logo, banners or schemes are incorporated in the statement for providing updated online information to the customer. Automated delivery of Statements to customers through various modes - web, email, fax, print and notifications via SMS makes Smart Statements totally Customer Centric. Each customer's bill will be delivered to the customers email ID or Fax number within minutes. Smart Statements, when integrated with Interactive Voice Recorder (IVR), will be capable of processing requests, thereby increasing customer reach and response time to customer queries.